23 Hour Fitness is a parody of 24 Hour Fitness that appeared in iCarly episode, "iFind Spencer Friends." It is a gym in Seattle and, this is one location where Freddie and Gibby manage to scout some new "adult" friends for Spencer to hang out with in hopes that they will come to Spencer's birthday party.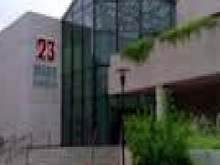 "Finish your rapping!"
This article is a stub. You can help the iCarly Wiki By expanding it.
Ad blocker interference detected!
Wikia is a free-to-use site that makes money from advertising. We have a modified experience for viewers using ad blockers

Wikia is not accessible if you've made further modifications. Remove the custom ad blocker rule(s) and the page will load as expected.