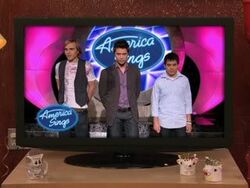 America Sings
is a fictional TV reality show featured in the episode
iRocked The Vote
.
Wade Collins and David Archuleta performed on America Sings, and Archuleta won, apparently with the help of the iCarly team.
The show is a parody, or spoof, of the FOX reality TV series, American Idol, where David Archuleta was a finalist. In this episode, he earns first place, while he actually places second on American Idol.
In the episode iSpy A Mean Teacher, Ms. Briggs is depicted as being obsessed with American Idol judge Randy Jackson, indicating that both American Idol and America Sings exist in the iCarly world.
The host of America Sings can be a parody of Ryan Seacrest who is the real-life host of American Idol.
Trivia
Ad blocker interference detected!
Wikia is a free-to-use site that makes money from advertising. We have a modified experience for viewers using ad blockers

Wikia is not accessible if you've made further modifications. Remove the custom ad blocker rule(s) and the page will load as expected.