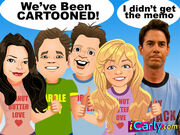 Arty
is the cousin of
Socko
, one of
Spencer
's best friends.
He was mentioned in Sam's blog; as the creator of the iCarly cartoons which appeared for a short while on the iCarly website. The whole Socko family is known to have names that is related to what they are well known for/good at. It seems Arty got his name from his talent of art, which is shown by his amazing cartoon sketches of the iCarly website.
He was called to do the sketches by Sam, who got tired of looking at the same pictures every time she went to the iCarly site. She seems to agree of his talent too.
"Finish your rapping!"
This article is a stub. You can help the iCarly Wiki By expanding it.
Ad blocker interference detected!
Wikia is a free-to-use site that makes money from advertising. We have a modified experience for viewers using ad blockers

Wikia is not accessible if you've made further modifications. Remove the custom ad blocker rule(s) and the page will load as expected.