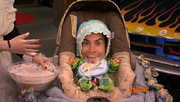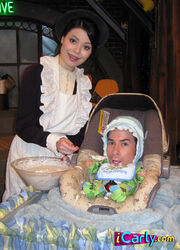 Baby Lumpley
(also known as
Baby Spencer
) is
Spencer Shay
but you can only see his head; his body is in a cot. Every time he appears, Baby Lumpley is fed some food that he usually spits out. He has appeared in
The Englishman Who Was A Terrible Father To His Two Children Named Fuffley And Peeta
.
Appearances
iWas a Pageant Girl: Baby Spencer is fed salsa on the webshow.
iWon't Cancel The Show: Carly's dad is watching iCarly for the first time ever, but when Sam gets taken to juvie, Spencer tries to save the day appearing as Baby Lumpley. He ends up choking and upchucking on Spencer's date Candace at the end of the episode.
iBloop: A blooper is shown where Jerry (acting as Baby Lumpley) spits out food on Miranda's (acting as Carly) hand.
A video on iCarly.com features Baby Lumpley being forced fed peanut butter and jelly to see which one he likes.
The end of an iCarly episode has Baby Lumpley being fed mayonnaise.
iBalls: The gang get Baby Spencer ready for bed by brushing his teeth with ketchup.
List of Food Being Fed to Baby Lumpley (Baby Spencer)
Ad blocker interference detected!
Wikia is a free-to-use site that makes money from advertising. We have a modified experience for viewers using ad blockers

Wikia is not accessible if you've made further modifications. Remove the custom ad blocker rule(s) and the page will load as expected.