Barry Schatz
is a reporter from the Video Game channel, (a parody of G4), who made an appearance in the episode
iStage an Intervention
. He shows up at the Shay's apartment with a camera crew and a handful of Video Game channel viewers to broadcast the return of
Sasha Striker
in her battle against
Spencer
to redeem her title and the world record in the arcade game,
Pak-Rat
.
One of the nerdy male viewers in attendance keeps jumping on camera during the broadcast and says he is looking for women to date him, but Barry chases him away by hitting him in the head with the microphone he carries everywhere. On the iCarly live video on the actual website (not shown in the episode), Barry tells the nerd "I told you not to do that!". He also announces Spencer's world-record achievement of beating Sasha Striker and becoming the "Best Pak-Rat Player in the World."
Barry was played by actor
Travis Hammer
.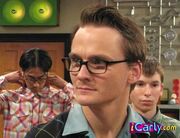 Ad blocker interference detected!
Wikia is a free-to-use site that makes money from advertising. We have a modified experience for viewers using ad blockers

Wikia is not accessible if you've made further modifications. Remove the custom ad blocker rule(s) and the page will load as expected.