The beauty pageant is the center of the storyline in iWas a Pageant Girl. It is a competition that involves girls competing with their appearances, self-introductions, responses to questions about current situations, and talent performances.
Sam used to compete in the pageants, competing with LeAnn Carter who won the pageant 99 times consecutively. When Sam hears about this from her classmate Tara, she forces Carly to compete against her since Sam had been banned from competing for seven years because people believed she pushed LeAnn down the stairs, which was not true. At the pageant, Sam finds out that her seven years has passed and she can compete again, so she does, finally defeating LeAnn.
Trivia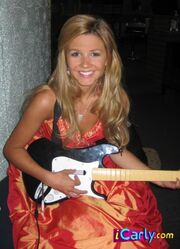 LeAnn Carter won 99 consecutive times in a row (revealed in iWas a Pageant Girl).
Sam won it once.
Sam was banned from it for seven years for pushing LeAnn down the stairs, despite the fact that LeAnn fell down the stairs herself.
Performances include LeAnn playing the saxophone and Sam tap dancing.
There are apparently a lot of people in the pageant business who happen to know Sam, although she did not compete for seven and a half years.
Sam actually loved being in the pageant.
According to Sam, pageants smell like hairspray and desperation.
"Finish your rapping!"
This article is a stub. You can help the iCarly Wiki By expanding it.
Ad blocker interference detected!
Wikia is a free-to-use site that makes money from advertising. We have a modified experience for viewers using ad blockers

Wikia is not accessible if you've made further modifications. Remove the custom ad blocker rule(s) and the page will load as expected.