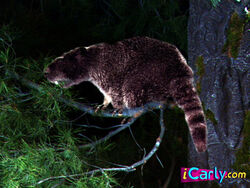 A beavecoon is (in the words of Spencer's deluded imagination) a creature "yay long, yay wide, head of a beaver, rump of a raccoon." In iBelieve in Bigfoot, Spencer tries to find the beavecoon while Carly tries to find Bigfoot. Supposedly, there were sightings of a beavecoon, such as when a female beaver and a male raccoon were seen "socializing" by a river. He doesn't find the beavecoon, and sadly there is one, but he doesn't see it. Also, In iSell Penny-Tees, he mentions it to get his foreign girlfriend to not leave.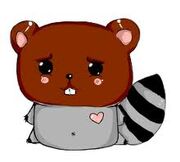 If one types "beavecoon.org" (the website Spencer went on), it will take them to iCarly.com, as do all fake websites. But, an alternate spelling of the word, "beavcoon.com", was not expected by Schneider's Bakery, so someone actually made it into a website, but it's small.
Ad blocker interference detected!
Wikia is a free-to-use site that makes money from advertising. We have a modified experience for viewers using ad blockers

Wikia is not accessible if you've made further modifications. Remove the custom ad blocker rule(s) and the page will load as expected.