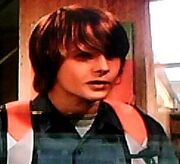 Benji is a student at Ridgeway High School. Benji has an unusual talent of being able to fit his entire foot in his mouth. He appeared in the Season 1 episode, iRue the Day. He was due to perform on iCarly, but "flaked out" at the last minute, due to the fact that the Plain White T's being in town and signing autographs at the Westbrook Mall. He is portrayed by Dylan McLaughlin. Sam attempted to make Gibby fit his foot in his mouth instead.
"Finish your rapping!"
This article is a stub. You can help the iCarly Wiki By expanding it.