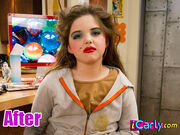 Bethany
is the bratty daughter of
Justine
appearing in
iGo One Direction
. Justine hired
Spencer
as a personal trainer for her, (much to his dismay), but he eventually took pity on her and wanted to help her. He tried to give her a makeover, but failed. She claims that she wants people to like her, but has difficulty doing so because of her personality.
Bethany is played by Chloe Csengery.
Ad blocker interference detected!
Wikia is a free-to-use site that makes money from advertising. We have a modified experience for viewers using ad blockers

Wikia is not accessible if you've made further modifications. Remove the custom ad blocker rule(s) and the page will load as expected.