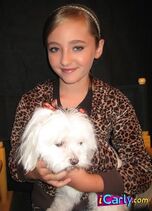 Biddy-Boo
is the puppy of
Amber Tate
.
So far, he and his owner have only appeared in the episode iCarly Saves TV. According to many people on the TVS studio, he vomits a lot. Freddie Benson was assigned to clean (bathe) him. He is always vomiting on Freddie.
Biddy-Boo has white, flurry fur and appears to be a little spoiled.
According to Carly,she has had "chicken wings with more meat on than that thing!",which could imply that she has a lot of fur,or Carly was jus being mean to Amber and her dog.
"Finish your rapping!"
This article is a stub. You can help the iCarly Wiki By expanding it.