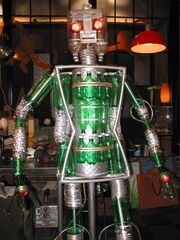 The Bottle Bot is one of Spencer's creations made entirely out of soda bottles. It is seen in every episode in the back of the Shay Apartment. It has red eyes, which sometimes glow. It was specifically mentioned in iHeart Art. It was used/featured in many other episodes, including iDate a Bad Boy, when Spencer turned it towards Carly and Griffin, iFence, when Spencer fenced it for practice, and in iHire An Idiot, when Spencer tried to sneak it into the Seattle Art Museum.
The Bottle Bot was the Grand Prize in the iCarly iGoodbye Sweeps [1] and won by a currently unknown person.
"Finish your rapping!"
This article is a stub. You can help the iCarly Wiki By expanding it.