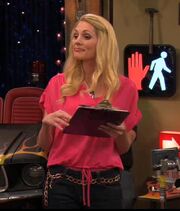 Cameron James
is the supervising producer or host of a TV show called
Hollywood Download
. She appeared in
iBalls
, where she filmed an
iCarly
webcast and interviewed
Carly
,
Sam
,
Gibby
and
Spencer
for her show. She refused to interview
Freddie
because he is only the tech guy and not in front of the camera, inspiring him (in a way) to want to become a "creative" member of the iCarly team while Carly had gone to
Yakima
. She also has a personal assistant, which was the cause Spencer's decision to get his
own
assistant,
Marty
.
The name may be a reference to the famous Hollywood director James Cameron.
Ad blocker interference detected!
Wikia is a free-to-use site that makes money from advertising. We have a modified experience for viewers using ad blockers

Wikia is not accessible if you've made further modifications. Remove the custom ad blocker rule(s) and the page will load as expected.