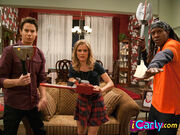 Cassie (played by Amelia Jackson-Gray) was Spencer's girlfriend in iStill Psycho. They went on multiple dates together. She appears to be a fan of video games, but a bigger fan of Spencer.
Cassie has a British accent and blonde, curly hair.
Cassie and Spencer appear to still be together at the end of the episode.
Their pairing name is Spassie.
Ad blocker interference detected!
Wikia is a free-to-use site that makes money from advertising. We have a modified experience for viewers using ad blockers

Wikia is not accessible if you've made further modifications. Remove the custom ad blocker rule(s) and the page will load as expected.