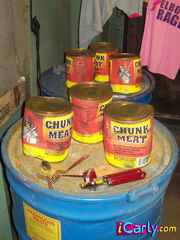 Chunk Meat is a canned animal food that Sam fed to her fourth-grade workers in the episode iSell Penny-Tees. It is advertised that it "strengthens hooves". Sam also tried it herself (not on-screen). On the label it says "may contain meat."
Ad blocker interference detected!
Wikia is a free-to-use site that makes money from advertising. We have a modified experience for viewers using ad blockers

Wikia is not accessible if you've made further modifications. Remove the custom ad blocker rule(s) and the page will load as expected.