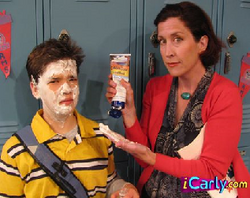 Cloud Block is a product used in iStakeout.
When Freddie lost a bet to Sam about what MPEG stood for, he had to get a tattoo of Sam's face on his arm. Worried that his mother might discover the tattoo when they go mother-son synchronized swimming, Freddie made up a condition called "cloud burn" and said to Marissa that if he takes his shirt off during swimming, he would catch it. Unfortunately, she became spooked about Freddie getting burnt and drove to seven different drug stores looking for "Cloud Block."
Much to Freddie's surprise, Marissa shows up at Ridgeway with a large tube of Cloud Block and begins to smear his face liberally with ointment.
Ad blocker interference detected!
Wikia is a free-to-use site that makes money from advertising. We have a modified experience for viewers using ad blockers

Wikia is not accessible if you've made further modifications. Remove the custom ad blocker rule(s) and the page will load as expected.