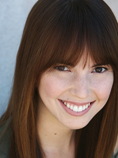 Danielle Morrow is the actress who played Nora Dershlit, the pathetic and mentally disturbed iCarly fan from Olympia, Washington, who locked Carly, Sam, and Freddie in her family's basement in the extended episode iPsycho, and trapped them in her house in iStill Psycho. Danielle grew up in Westlake Village, California, and became a member of The Groundlings, as was Mindy Sterling and Mary Scheer. She also performed in an episode of "Heroes," had a role as "Kimmy" in the Disney Channel sitcom and also "Good Luck Charlie" episode "Pushing Buttons."
Danielle Morrow was seen in the Leave it all to me music video on Splash Face.
Following the airing of iPsycho, Ms. Morrow posted two pictures of herself on her Internet Movie Database page. She has since removed these pictures. Recently, she also appeared in the "Funny or Die" video "Bestie's Night," and is scheduled to appear in the 2012 movie Sprawl in May 2012.
She reprised her role as Nora Dershlit in the Season Four episode, iStill Psycho, and again in iCarly's spinoff series Sam & Cat.
Trivia
Nathan revealed in an interview to Nick.com about iStill Psycho that Danielle had to w

ear ear plugs in her nose to make Nora Dershlit sound congested.
She has two different color eyes. Her left eye is blue and her right eye is brown, due to Heterochromia iridum
She is the real life wife of Jeremy Rowley, the actor who plays Lewbert.[1]
Her manager is also the manager/mother of Laura and Vanessa Marano.
External links
References
Ad blocker interference detected!
Wikia is a free-to-use site that makes money from advertising. We have a modified experience for viewers using ad blockers

Wikia is not accessible if you've made further modifications. Remove the custom ad blocker rule(s) and the page will load as expected.