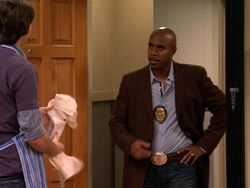 Detective Tragg is the partner of Spanky Stembler. He appeared in iStakeout. He came to Carly's apartment to stakeout the store across the street because he and Spanky thought the clerk was selling "pirated" DVDs. He is a bad guest to the Shays, as demonstrated when he orders a pizza using Spencer's credit card. They leave upon finding out that the store clerk was actually selling lame "pirate" movies that he made of himself with his friends and not "pirated" movies. He has one daughter with his current wife.
Detective Tragg is portrayed by Asante Jones.
Ad blocker interference detected!
Wikia is a free-to-use site that makes money from advertising. We have a modified experience for viewers using ad blockers

Wikia is not accessible if you've made further modifications. Remove the custom ad blocker rule(s) and the page will load as expected.