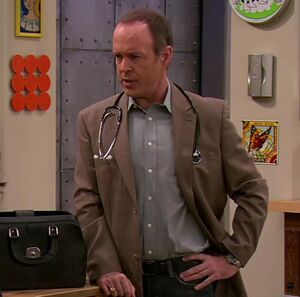 Dr. Dresdin
is a doctor who lives in apartment 10-G of
Bushwell Plaza
. He first appeared in the episode,
iFight Shelby Marx
, when he gave
Spencer
allergy medication that wasn't yet approved in America (only approved in Cuba) and has many side effects. They included itching of the body, extreme thirst, muscle spasms, and memory loss.
He reappeared in iBeat the Heat, saying that he wanted to check on Spencer's allergies as an excuse to enter the Shays' apartment, the only one with air conditioning.
His last appearance was in iGo One Direction when he checked on Carly and Harry Styles, who contracted jungle worms. Dresdin failed to recognize that it had been quite a long time for someone to be sick and that Harry was just faking his illness from that point on.This was because Carly was waiting on him hand and foot.
"Finish your rapping!"
This article is a stub. You can help the iCarly Wiki By expanding it.
Ad blocker interference detected!
Wikia is a free-to-use site that makes money from advertising. We have a modified experience for viewers using ad blockers

Wikia is not accessible if you've made further modifications. Remove the custom ad blocker rule(s) and the page will load as expected.