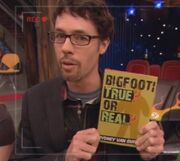 Dr. Sydney Van Gurben
is a scientist who studied
Bigfoot
. He wrote a book called
Bigfoot: True or Real?.
He also dressed up as Bigfoot just to create hype so that people would buy his book. He appeared only in
iBelieve in Bigfoot
. He was caught in the end. He also states he wasn't very popular as a kid as he replies to
Sam
's question. He must want people to buy his book so much as he mentions his book over and over on the iCarly show. He is also noted for calling
Robin's Weiners
a "Weinery." He wants people to buy his book so that he can finally not be a "loser" and be famous for once.
Dr. Van Gurben was played by actor Craig Welzbacher.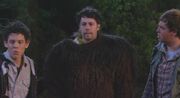 "Finish your rapping!"
This article is a stub. You can help the iCarly Wiki By expanding it.
Ad blocker interference detected!
Wikia is a free-to-use site that makes money from advertising. We have a modified experience for viewers using ad blockers

Wikia is not accessible if you've made further modifications. Remove the custom ad blocker rule(s) and the page will load as expected.