Drake & Josh is Dan Schneider's previous show before iCarly. There have been some references to it on iCarly.
Episodes Mentioned or Appearances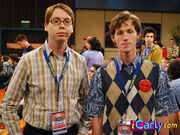 iCarly References on Drake & Josh
In Really Big Shrimp, one of the movies that was being played at The Premiere was called, "Now She's Carly", referring to Miranda Cosgrove, who played Megan on the show, will soon be portraying a character named Carly.
In Merry Christmas, Drake & Josh, as Josh is flipping through channels, he flips through the iWeb Awards.