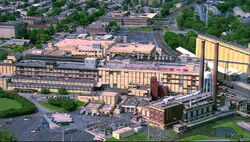 Fat Cakes World Headquarters is the main headquarters and factory that makes and produces Fat Cakes and Fat Shakes., It is located in Canada. It is also mentioned that over 65% of the world's Fat Cakes are produced there.
It was shown in the episode iToe Fat Cakes when Spencer, Freddie, and Gibby took Sam there for a tour of the factory.
It is also noted that the fat cake factory fills 95,000 fat cakes with cream every day.
"Finish your rapping!"
This article is a stub. You can help the iCarly Wiki By expanding it.