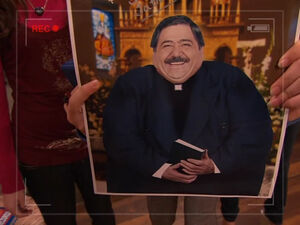 Father McGurthy is the world's fattest priest. Sam was obsessed with him in the episode, iWant a World Record. He fell through the floor in the hallway outside Carly and Spencer's apartment when he was on his way to meet Sam. He is also mentioned in the extended version of iCarly Saves TV, where Sam thought the limo she and the others were riding was big enough for him.
Sam has been obsessed with him ever since she saw him in the Jonas Book of World Records.
At the start of iCarly's attempt at breaking a world record, Sam is given a picture of Father McGurthy, and she gets very excited.