Fiddy's Diner is the 50's style restaurant in iFind Spencer Friends. There, the gang tries to introduce Spencer to some new friends, and they all end up meeting the uber-iCarly fan Heather. The name Fiddy's is a reference to the 1950s theme of the diner. They serve burgers, chili fries and nachos among other menu items and some of their waitstaff seem to be rather strange.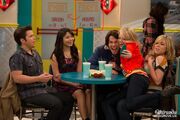 "Finish your rapping!"
This article is a stub. You can help the iCarly Wiki By expanding it.
Ad blocker interference detected!
Wikia is a free-to-use site that makes money from advertising. We have a modified experience for viewers using ad blockers

Wikia is not accessible if you've made further modifications. Remove the custom ad blocker rule(s) and the page will load as expected.