Food Fight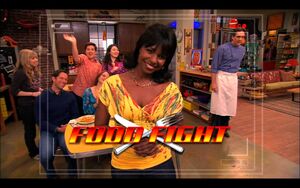 is a fictional television show featured in
iCook
. It is hosted by
Sarah James
and stars
Ricky Flame
. This show is a parody of
Throwdown! with Bobby Flay
.
On the show, Ricky would challenge a group or a person to make a food while he tried to prepare the same food, but make it better. Usually, he would choose a good chef and have them cook a dish they were great at making. A panel of three judges would decide which dish was better.
Ricky had won every contest on the show, until he tried to come up with a better Spaghetti Taco recipe than the iCarly gang (iCook). Two out of the three judges voted in favor of the iCarly trio's tacos, handing Ricky his first defeat.
Carly, Sam, and Freddie won a year's supply of free steaks from Ricky after their victory.
Ricky went into a deep depression after losing and not only quit the show, but gave up cooking altogether.
Carly, Sam, and Freddie tried, without success, to cheer Ricky up so that he would start cooking again. Eventually, Ricky realized that he didn't care about cooking, only about winning. So he entered a wrestling league for 6- to 10-year-old boys since he was certain to win when he was wrestling children.
After the iCarly trio saw Ricky's true, greedy nature, Sam wrestled him to the floor, leaving him defeated and crying once again.
It is unknown what happened to Food Fight after Ricky quit the show. The show might have ended or may have continued with a different chef in Ricky's place.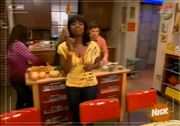 Ad blocker interference detected!
Wikia is a free-to-use site that makes money from advertising. We have a modified experience for viewers using ad blockers

Wikia is not accessible if you've made further modifications. Remove the custom ad blocker rule(s) and the page will load as expected.