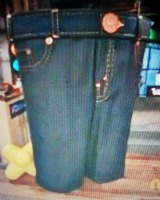 The Gigantic Pants is one of the pieces of artwork made by Spencer and some of the inmates of King County Prison. It made its first appearance in the episode, iThink They Kissed, where Spencer volunteered himself to teach the inmates art in prison, which they ended up making a gigantic pair of pants.
Two of the prisoners hid inside of the gigantic pants, (to escape out of prison) when Spencer brought it home. It also reappeared in the episode, iHave My Principals, when Carly and Sam used it as a prop on an iCarly webcast, and they hide Principal Franklin (as a guest) inside of it to surprise the audience.
"Finish your rapping!"
This article is a stub. You can help the iCarly Wiki By expanding it.
Ad blocker interference detected!
Wikia is a free-to-use site that makes money from advertising. We have a modified experience for viewers using ad blockers

Wikia is not accessible if you've made further modifications. Remove the custom ad blocker rule(s) and the page will load as expected.