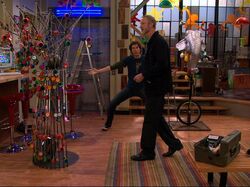 Harry Joyner is the most famous English artist in the whole Seattle Art Community. He has inspired and influenced the artwork of Spencer Shay, and he once came to Bushwell Plaza to surprise Spencer, because Carly emailed him, although he lied and disappointed Spencer. The only episode he has appeared in was iHeart Art.
In this episode, becoming jealous of Spencer's artwork, he lied that he didn't like Spencer's work. Spencer became deeply depressed that his idol didn't like his art and gave up his art career until Harry admitted his jealousy. They eventually worked together on a sculpture for the dentist Spencer temporarily worked for.
Harry Joyner has made lots of sculptures, he loosely said, "...since I've made sculptures out of every material known to man, I thought I'd make a sculpture out of man himself!".
He considers himself to be past his prime, because he told Spencer "Your sculptures are better than anything I have done in a long time."
Harry Joyner was portrayed by Oliver Muirhead.
"Finish your rapping!"
This article is a stub. You can help the iCarly Wiki By expanding it.
Ad blocker interference detected!
Wikia is a free-to-use site that makes money from advertising. We have a modified experience for viewers using ad blockers

Wikia is not accessible if you've made further modifications. Remove the custom ad blocker rule(s) and the page will load as expected.