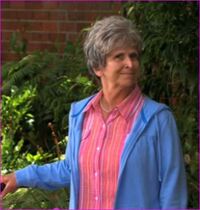 Hazel is the elderly woman who appeared in iDo. She was helping Gibby get a $5 bill from a tree. He offered to get some coffee with her if they were successful, which could technically be counted as a date.
Gibby ends up getting the bill, but Hazel was knocked down during the process. On iCarly.com, it is said that Hazel sued Gibby for that but Gibby had Spencer for a lawyer so Gibby made a deal with her. If she didn't sue him, he would take her out for coffee every week.
"Finish your rapping!"
This article is a stub. You can help the iCarly Wiki By expanding it.
Ad blocker interference detected!
Wikia is a free-to-use site that makes money from advertising. We have a modified experience for viewers using ad blockers

Wikia is not accessible if you've made further modifications. Remove the custom ad blocker rule(s) and the page will load as expected.