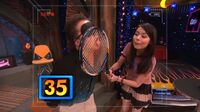 Hey, What Am I Licking?is a webcast on iCarly featuring Sam Puckett, Freddie Benson, Gibby Gibson and Spencer Shay licking items, and giving them a minute to figure out what the item is.
Episodes
These are Hey, What Am I Licking? episodes, with descriptions from iCarly.
Guitar
You know Hey, What Am I Sitting On?. Now, check out Hey, What Am I Licking?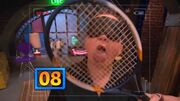 Tennis Racket
Gibby tries to find out that he's licking a tennis racket.
A Man's Hat
Freddie is about to lick a hat! Not just any hat. It's a man's hat! How great is that?
Vintage Telephone
Today's licker is Sam and her tongue is about to go retro. She's licking a vintage telephone!
See Also
"Finish your rapping!"
This article is a stub. You can help the iCarly Wiki By expanding it.
Ad blocker interference detected!
Wikia is a free-to-use site that makes money from advertising. We have a modified experience for viewers using ad blockers

Wikia is not accessible if you've made further modifications. Remove the custom ad blocker rule(s) and the page will load as expected.