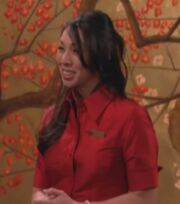 The clerk at the front desk of the
Hotel Nakamura
, where
Carly
,
Sam
,
Freddie
,
Spencer
, and
Mrs. Benson
were staying, while they were in Tokyo for the
iWeb Awards
, in
iGo To Japan
.
When she handled their check-in, she mistook Carly and Freddie for newly-weds on a honeymoon twice, much to Carly's displeasure. It is possible that she is a Creddie shipper if she has seen iCarly.
[Carly and Freddie walk up to the front desk.]
Clerk : Hello. Welcome to Hotel Nakamura. May I help you?
Carly : Yeah, we're checking in.
Clerk : Aw, honeymoon couple!
[Freddie looks at Carly with a smile and raises his eyebrows. Carly slaps him.]
Clerk : [Waving] Ah, enjoy your honeymoon!
Carly : Stop saying that!
The clerk was portrayed by Elaine Lee.
Ad blocker interference detected!
Wikia is a free-to-use site that makes money from advertising. We have a modified experience for viewers using ad blockers

Wikia is not accessible if you've made further modifications. Remove the custom ad blocker rule(s) and the page will load as expected.