Ad blocker interference detected!
Wikia is a free-to-use site that makes money from advertising. We have a modified experience for viewers using ad blockers

Wikia is not accessible if you've made further modifications. Remove the custom ad blocker rule(s) and the page will load as expected.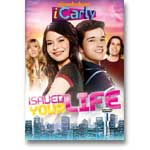 Release Information: Studio: Nickelodeon Release Type: Individual Episodes Release Date: 6/08/2010 Number of Discs: 1 Number of Episodes: 2 Running Time: 149 mins Retail Price: $16.99 (US$)
Audio/Video Information: Video: Full Frame (1.33:1) Audio: Unknown Subtitles: None/Unknown

Description:
Is Carly really falling in love with Freddie? Did Sam really quit iCarly? Did Freddie really kiss Sam? Is Melanie real or is she Sam in disguise? And how much longer can Spencer wear his Tuxedo? Find out the answers to all of these questions and more in the latest iCarly release, iSaved Your Life.
Taken from: http://www.tvshowsondvd.com/releases/iCarly-Volume-Release/9881#ixzz14Akbxop0