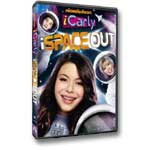 Description
It's a blast of iCarly episodes that are out of this world! Carly and the crew venture to a training facility to test their space survival abilities. Can they hack being locked in a space pod for 36 hours? Sam decides to reveal a shocking secret, Gibby wants to fight Freddie, and guess who tries to find Bigfoot. Join the iCarly crew for more insanity! Includes the most watched iCarly episode to date, "iSpace Out", plus 5 more insane episodes! A 2009 Kids Choice Award Winner for Favorite TV Show!
This DVD also has the first episode of Victorious as a bonus.
Ad blocker interference detected!
Wikia is a free-to-use site that makes money from advertising. We have a modified experience for viewers using ad blockers

Wikia is not accessible if you've made further modifications. Remove the custom ad blocker rule(s) and the page will load as expected.