iCarly Season 1 Volume 1 is the first release of iCarly with episodes 1 - 12 of season 1.
Synopsis:
"In the spirit of Wayne's World, Carly and her best friend Samantha "Sam" Puckett turn a boring school assignment into a fun, creative and hilarious web-show. When their friend Freddie accidentally leaks a video of their antics on the web, Carly, and average 13-year-old girl, becomes an unlikely online celebrity. Embracing her popularity, Carly convinces Sam, her co-host and comedic sidekick, and Freddie, their technical producer, to turn "iCarly" into a weekly show… where they can finally do and say whatever they want! iCarly is a convergent entertainment experience that unites the TV screen and the web for kids. Throughout the show, Carly will encourage viewers to post their own originally created content relating to the context of each show. Solicited content may become part of a future iCarly episode, or included in Carly's online webcast, making iCarly the first scripted show on all of TV to incorporate original kid-created content."
Episodes
Special Features
"Leave It All to Me" Music Video
Making of the Music Video "Leave It All to Me"
Behind-the-Scenes
Extras
Videos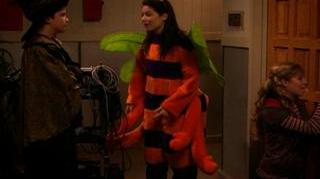 Ad blocker interference detected!
Wikia is a free-to-use site that makes money from advertising. We have a modified experience for viewers using ad blockers

Wikia is not accessible if you've made further modifications. Remove the custom ad blocker rule(s) and the page will load as expected.