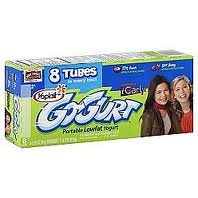 GoGurt once had iCarly trivia on their tubes.
On one side, a question about the show is asked. The answer is on the inside of the tube, hidden by the yogurt. When all the yogurt is eaten, the answer is visible. Over time, new trivia questions have been added.
You could buy them at almost any store, depending on their stock. iCarly Trivia GoGurt wad considered a special edition GoGurt. iCarly GoGurt is still being made and is available in some areas, despit the pictures of the characters being noticeably younger.
Questions
Q: What does it mean when Spencer says WWSD?
A: What would Socko do?
Q: Who told Carly about Freddie and Sam's kiss?
A: Sam
Q: What is Sam's least favorite color?
A: Pink
Q: What is the name of Gibby's dog?
A: Grubbles