Ad blocker interference detected!
Wikia is a free-to-use site that makes money from advertising. We have a modified experience for viewers using ad blockers

Wikia is not accessible if you've made further modifications. Remove the custom ad blocker rule(s) and the page will load as expected.

Welcome to the iCarly Wiki!
The wiki about iCarly that anyone can edit
1,111 articles since March 2008.
BEFORE YOU BEGIN EDITING, PLEASE READ OUR POLICIES and BEFORE YOU BEGIN SOCIALIZING ON CHAT PLEASE READ OUR CHAT POLICIES
(Ship Warring will not be tolerated.)
iCarly
iCarly is an American teen sitcom which focuses on a girl named Carly (Miranda Cosgrove) who creates her own web show called iCarly with her best friends Sam (Jennette McCurdy) and Freddie (Nathan Kress). The series was created and executive-produced by Dan Schneider. iCarly is targeted towards preteens and young teens, but has a substantial following among children, older teens and adults. read more

Featured Episode
iGoodbye are the 14th and 15th episodes of Season 5 and the 108th-109th episodes overall. This episode marks the series finale of iCarly.
Carly is looking forward to going to a father-daughter Air Force dance with her dad, but when he can't make it, she becomes extremely sad. Spencer offers to take her, even canceling an important date, but Lewbert sneezes on him and causes him to get very sick, making it impossible for him to go, too.
Spencer fixes a 1964 Sterling motorcycle Socko wants to give to his cousin Ryder. Sam is a big fan of the bike and helps Spencer fixing it.
Freddie gets a gigantic new phone from his mother.
Gibby gets a new replica of his head, but gets stuck in the replication machine. read more..

The Main Characters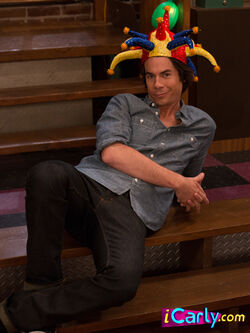 Spencer Shay (born on November 11, 1981, ) is Carly Shay's older brother, and the first child of Mr. and Mrs. Shay. Since their father is in the military, Spencer is Carly's legal guardian. His mom has never been mentioned.
Spencer is shown to have an eccentric, random, fun, and weird demeanor, but despite that, he isn't fooled easily, as seen in iLook Alike, iDate a Bad Boy, and iGet Pranky. He once said himself, "I may be an idiot, but I'm not stupid". He's immature in some episodes but had a strict and mature side in iLook Alike and iDate a Bad Boy, where he grounded Carly twice.
Spencer may be eccentric and weird, but he really is responsible.
Spencer also frequently finds himself in sticky situations that serve as a subplot for the episode. Some of these subplots include his nemesis, the notorious Chuck Chambers.Spencer is quite a ladies' man, having dated over ten women. Some of his relationships are even more eccentric than he is, like Connie, the juggler; Lauren Ackerman, Carly's former teacher with a lot of emotional problems; and Stephanie, a girl who believed that she had a pet unicorn who could talk.
Another recurring gag is that many objects Spencer touches or fixes spontaneously bursts into flames, the first being the chicken stir fry he made in iWanna Stay With Spencer, with added humor due to the fact the item that does so is always made of a material that is non-flammable in real life, such as a hotel bell or the cymbal on a drum.
Refresh for another character
Minor Characters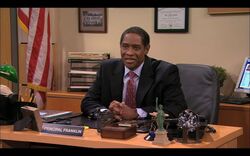 Ted Franklin is the really popular-with-the-students principal at Ridgeway High School. He is fond of Carly and Freddie, and is used to seeing Sam in his office to give her detention on a regular basis. He never hesitates to discipline troublemaking students (particularly Sam), but does so in a fair and kind-hearted way rather than the "usual" strict way of most principals in the media. He goes out of his way to be fair and on occasion sides with students over teachers who pick on students or make false accusations.
Refresh for another character
Featured Media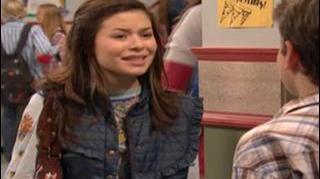 Helping out
To write a new article, just enter the title in the box below
Latest activity
iCarly Wiki Affiliates
iCarly Quotes
"

Gibby: "Who is this woman?! Off with her head!"
Freddie: "If her head does come off, might I please eat it?"

"
Refresh for another quote
Suggest more quotes for the template here.
Cast and Character Birthdays
Cast Birthdays
Characters' Birthdays
iCarly Twitter
Create blog post
Latest Blog Posts
I'm from Israel and I love the series icarly!..

I love all the players but my favorite actress so Sam

I'm learning a lot of English words It helps me a…

Read more >
See more >
Administrators' Blogs
Create blog post
Administrators' Blogs
Hey guys, I wanted to propose giving bureaucrats the ability to add bot flags to accounts. Right now only staff can do so and I want to be able to tu…

Read more >

Hey guys, this is just a notice that I won't be as active as I normally am since I need to send my laptop in to be repaired. I'll still have internet…

Read more >

Hey guys. suggested I adopt this wiki to gain bureaucrat rights since we don't have an active bureaucrat right now. I've been an admin here since Fe…

Read more >

Hello iCarly wikians. Just letting you know I'm an admin now. Thanks to Alica for promoting me. Let me know if you need help.

Read more >

Hello guys and gals, it's me.

So, as I found out moments ago, I was "crowned" an admin and I made this blog at the request of Devon. Ummm, normally, f…

Read more >
See more >
See All