Home
Talk

71
1,099pages on
this wiki

Welcome to the iCarly Wiki!
The wiki about iCarly that anyone can edit
1,099 articles since March 2008.
BEFORE YOU BEGIN EDITING, PLEASE READ OUR POLICIES and BEFORE YOU BEGIN SOCIALIZING ON CHAT PLEASE READ OUR CHAT POLICIES
(Ship Warring will not be tolerated.)
iCarly
iCarly is an American teen sitcom which focuses on a girl named Carly (Miranda Cosgrove) who creates her own web show called iCarly with her best friends Sam (Jennette McCurdy) and Freddie (Nathan Kress). The series was created and executive-produced by Dan Schneider. iCarly is targeted towards preteens and young teens, but has a substantial following among children, older teens and adults. read more

Featured Episode
iGoodbye are the 14th and 15th episodes of Season 5 and the 108th-109th episodes overall. This episode marks the series finale of iCarly.
Carly is looking forward to going to a father-daughter Air Force dance with her dad, but when he can't make it, she becomes extremely sad. Spencer offers to take her, even canceling an important date, but Lewbert sneezes on him and causes him to get very sick, making it impossible for him to go, too.
Spencer fixes a 1964 Sterling motorcycle Socko wants to give to his cousin Ryder. Sam is a big fan of the bike and helps Spencer fixing it.
Freddie gets a gigantic new phone from his mother.
Gibby gets a new replica of his head, but gets stuck in the replication machine. read more..

The Main Characters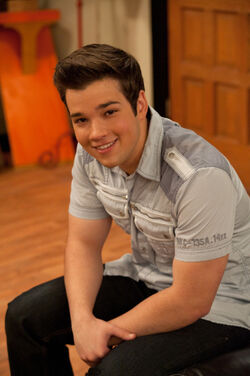 Fredward "Freddie" Benson (born on February 4, 1994, 20) was iCarly's technical producer and the tritagonist of the show.
This role includes being an administrator for the iCarly website, creating the special effects used on the iCarly webcast, editing film clips for the show, and being a camera man. Freddie is the oldest member of the iCarly trio and came up with the name iCarly for their webshow.
He lives in Bushwell Plaza, in apartment 8-D with his mother. This is the apartment directly across across the hall from his best friend Carly Shay.
Freddie is very intelligent and is shown to be a bit of a "geeky, but cool" person who can get excited about anything that has to do with technology. He is also a member of the A.V. Club in school, along with being a fan of World of Warlords (parody of World of Warcraft). Because of his love for computers, he became iCarly's technical producer, the one who builds and operates the technical equipment on iCarly.
Freddie does have a somewhat devious side, especially when he wants to get back at Carly or Sam for something. This was shown in iStage An Intervention and iHire An Idiot. Freddie likes to believe that he is "bad", but his pranks and wrongdoings usually backfire somehow, and he's as squeaky-clean as ever.
Freddie shares Spencer's enthusiasm for Galaxy Wars (parody of Star Wars). His interest is also shown in the decoration of his room and the fan-talk they share after Spencer buys a "Proton Cruiser" spaceship.
Refresh for another character
Minor Characters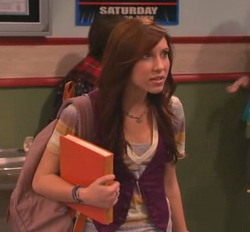 Wendy is a recurring character on iCarly. She is good friends with Carly, Sam, and Freddie. She has appeared in a total of 8 iCarly episodes, in Seasons 1 and 2.
She hasn't been seen on-screen since IPity The Nevel, but Sam briefly mentions her in iLove You. Carly mentions her again in iToe Fat Cakes when she gets her toe stuck in the faucet and wants to call her for help.
Refresh for another character
Featured Media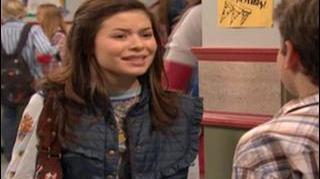 Helping out
To write a new article, just enter the title in the box below
Latest activity
iCarly Wiki Affiliates
iCarly Quotes
| | | |
| --- | --- | --- |
| " | Carly: "No guy wants to see a girl go like this, *acts like Sam* Myah, myah. Oh, I'm Sam Puckett. Myah, myah, myah, myah. And Sam, how can you listen to this whiney nub go *acts like Freddie* meeeeeeeh! You're eating to much parmesan! Meeeeeeeeeh! Don't chew with your mouth open, meeeeeeh!" | " |
Refresh for another quote
Suggest more quotes for the template here.
Cast and Character Birthdays
Cast Birthdays
Characters' Birthdays
iCarly Twitter
Create blog post
Latest Blog Posts
       For many years now I have had a theory on Jennette and wh she does what she does. In order to fully explain it I would have to tell you about …

Read more >
See more >
Administrators' Blogs
Create blog post
Administrators' Blogs
Hello iCarly wikians. Just letting you know I'm an admin now. Thanks to Alica for promoting me. Let me know if you need help.

Read more >

Hello guys and gals, it's me.

So, as I found out moments ago, I was "crowned" an admin and I made this blog at the request of Devon. Ummm, normally, f…

Read more >

Hello,

We wanted to let you know that in order to comply with federal law, Wikia is reviewing the way it handles communities that may be considered di…

Read more >

Edit: It's working fine now. If anyone has any technical or user issues. Please don't hesitate to let me know, so it will be handled by either myself…

Read more >

Well, with iCarly's final episode being filmed right now, I thought it's time to think a little about the time on the wiki here.

I'm FAR from perfect …

Read more >
See more >
See All