Much of the furniture on iCarly seems to be slightly modified IKEA items. Examples of this are:
In the kitchen, there is a VÄRDE storage unit with red drawers and LANSA handles. Also, the cabinets behind it have LANSA handles as well, along with EKBY MOSSBY/ EKBY BJÄRNUM combination of shelves.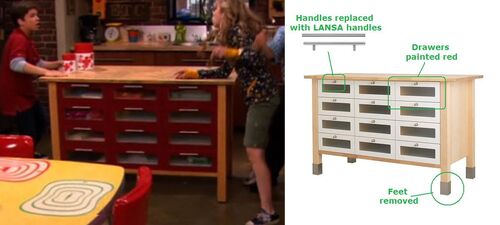 As well as this, in the living area, tucked into the corner by the stairs are two HELMER drawer units.

What's more, in the hallway that leads to the bathroom are two red PS locker cabinets stacked on top of each other, with a piece of wood separating them.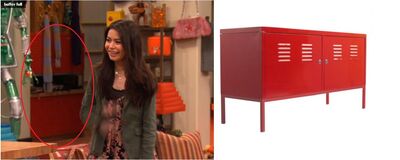 Moving out of the living area, into Spencer's bedroom, there is a white IKEA PS Locker in the doorway.

There are also IKEA furnishings in Carly's new room. She has an IKEA MANDAL bed with a headboard added.
Also in Carly's room is what is possibly an Ikea MANDAL dresser with quite a few modifications.
There are also other IKEA items, but these are the ones it is easy to identify and find pictures of. In the episode iOMG there are lots of IKEA units, tables, chairs, and sofas in the school.
In iStill Psycho, Freddie's kitchen has Ikea PLASTIS Dishwashing brushes hanging on the wall.
Source reference: iCarly Loves IKEA by IKEA SPOTTER
Ad blocker interference detected!
Wikia is a free-to-use site that makes money from advertising. We have a modified experience for viewers using ad blockers

Wikia is not accessible if you've made further modifications. Remove the custom ad blocker rule(s) and the page will load as expected.