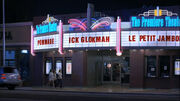 Ick Glokmah
is the movie that
Carly
and
Kyle
watched on their date at the cinema in
iQ
. It is a Udonian movie with English subtitles.
The movie is in total 4 hours long, but after the first two hours, it has an intermission.
Ick Glokmah was also mentioned in one of Dan Schneider's other Nickelodeon TV shows, Drake and Josh, in which Jerry Trainor, who plays Spencer Shay, worked at the Premiere Theater and went by the name "Crazy Steve". The movie cover was also seen.
The movie said to be Russian, but in the Drake & Josh episode, "We're Married", it is said to be a Udonian film.
It possibly appeared in iGet Pranky, when Spencer was watching a movie with his new girlfriend.
"Finish your rapping!"
This article is a stub. You can help the iCarly Wiki By expanding it.
Ad blocker interference detected!
Wikia is a free-to-use site that makes money from advertising. We have a modified experience for viewers using ad blockers

Wikia is not accessible if you've made further modifications. Remove the custom ad blocker rule(s) and the page will load as expected.