"Finish your rapping!"
This article is a stub. You can help the iCarly Wiki By expanding it.
Jamaican My Hair So Silky is the brand of Jamaican shampoo that T-Bo uses. It is a play on words for "You're making my hair so silky!"
It was, so far, only mentioned in iStill Psycho, when T-Bo accidentally left it behind in the shower at the Benson apartment after moving out.
The type T-Bo has was said to have cost $7. He purchased it in Jamaica.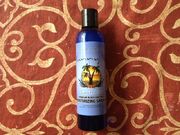 Ad blocker interference detected!
Wikia is a free-to-use site that makes money from advertising. We have a modified experience for viewers using ad blockers

Wikia is not accessible if you've made further modifications. Remove the custom ad blocker rule(s) and the page will load as expected.