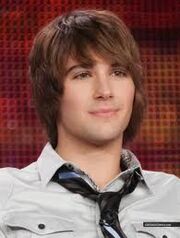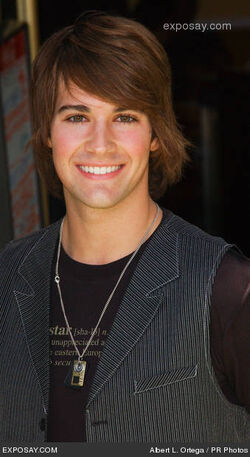 James Maslow, (born July 16, 1990 in New York City), is an actor and singer who played Shane in the iCarly Season 2 premiere episode iSaw Him First, his television debut. He played James Diamond in the Nickelodeon sitcom Big Time Rush, and is in a music group of the same name.
Biography
James was born in New York City and moved to San Diego, California, when he was six years old. He began singing when he was five years old. At age 10, James began singing with the San Diego Opera. James Maslow performed with the La Jolla Playhouse Summer Conservatory—home to many award-winning plays and musicals.
Trivia
He is extremely well rounded, combining creativity with athleticism and focus. He loves surfing, skateboarding, football, basketball, soccer, baseball, martial arts, sailing, and snowboarding.
He loves animals. He has a 100 pound yellow Labrador Retriever named Falco and has a new Alaskan Klee Kai puppy named Fox. He loves horses and horseback riding as well.
He says he chose acting over being in the rodeo.
He is known for his versatility and sense of humor.
On Halloween 2009, he was Austin Powers.
He is Jewish.
Other than singing, his experience in music includes playing the piano.
Twitter Feed
External links