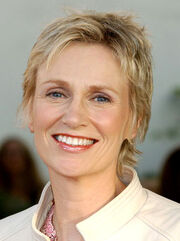 Jane Lynch
was born in Dolton, Illinois, on July 14, 1960. Jane is an American actress, best known for her roles as Sue Sylvester on
Glee
, Charlie Harper's therapist in
Two and a Half Men
and for her roles in comedy films, such as
The 40-Year-Old Virgin
and
Best in Show.
Jane Lynch is an open lesbian and married Dr. Lara Embry on May 31, 2010.
Early Life
Jane Lynch was the daughter of a homemaker mother and a banker father. She was raised in an Irish Catholic family and attended Thornridge High School. She received her bachelor's degree in theatre from Illinois State University and her Master of Fine Arts in theatre from Cornell University. She began acting for film in 1988.
Career
Lynch's extensive theater background involved touring with The Second City comedy troupe and playing Carol Brady in The Real Live Brady Bunch. She also wrote and starred in the award-winning play Oh Sister, My Sister. Originally produced in 1998, the play kicked off the Lesbians in Theater program at the L.A. Gay & Lesbian Center in 2004.
Her breakthrough film role was as Christy Cummings, the butch lesbian personal dog handler to trophy wife Sheri Ann Cabot (Jennifer Coolidge) in director Christopher Guest's mockumentary Best in Show (2000). She also appeared in Guest's A Mighty Wind (2003) as porn actress-turned-folk singer Laurie Bohner and in For Your Consideration (2006) as an entertainment reporter.
Lynch is also a television performer. She starred with John Hannah and William Fitchner in 2002's MDs, and has made guest appearances in numerous television series, including L.A. Law, Judging Amy, The West Wing, 7th Heaven, Friends, Felicity, Arrested Development, Lovespring International, Two and a Half Men, Weeds, Boston Legal and many more.
Jane has starred in a series of films including Role Models, Talladega Nights: The Ballad of Ricky Bobby, and Alvin & the Chipmunks.
As of 2011, Lynch currently appears on the Fox series Glee. Lynch plays the aggressive cheerleading coach Sue Sylvester.
Jane Lynch also guest starred on the hit Nickelodeon show iCarly, as Pam Puckett, Sam Puckett's mother.
Jane Lynch appeared at the 2010 MTV VMAs on Sept. 12, 2010.
Awards
In 2005, Lynch was named as one of POWER UP's "10 Amazing Gay Women in Showbiz."
On December 15, 2009, Lynch received a Golden Globe nomination for Best Supporting Actress in a Series, Miniseries, or Television Film for her role on Glee. The series itself also received nominations in three other categories.
On August 29, 2010, Lynch won the Primetime Emmy Award for Outstanding Supporting Actress-Comedy Series.
Twitter
External Links