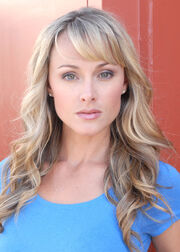 Jennifer O'Dell (born November 27, 1974 in Ridgecrest, California) is an American film and television actress.
She appeared in iOwe You, playing the mother of the young Sunshine Girl, Emily. Her character was also a love interest for Spencer.
O'Dell has been acting since the age of 8, and has appeared in many films and television series. She is probably best known for her starring role as Veronica Layton on the action/adventure series Sir Arthur Conan Doyle's The Lost World.
Gallery
External links
Jennifer O'Dell at

"Finish your rapping!"
This article is a stub. You can help the iCarly Wiki By expanding it.
Ad blocker interference detected!
Wikia is a free-to-use site that makes money from advertising. We have a modified experience for viewers using ad blockers

Wikia is not accessible if you've made further modifications. Remove the custom ad blocker rule(s) and the page will load as expected.