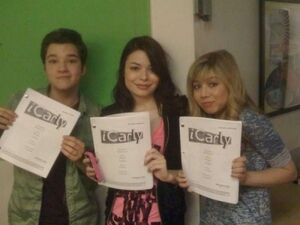 Jentharanda is the friendship between Jen/nette Mccurdy, Na/tha/n Kress and Mi/randa Cosgrove, who play the roles of Sam, Freddie, and Carly. This ship should not be confused with Creddiam, the ship for the iCarly gang friendship. They have been together for 5 years.
View the gallery for this friendship here.
Jentharanda Moments
In this tweet, Nathan calls Miranda and Jennette "two of his favorite ladies".
In this video, the trio sing the song, "I'm Coming Home" together. They seem to enjoy each other's company.
Jennette called Miranda and Nathan in her uStream in November.
She nicknamed Miranda and Nathan "Cosmos" and "Kressington" respectively in her phone.
"Finish your rapping!"
This article is a stub. You can help the iCarly Wiki By expanding it.
Ad blocker interference detected!
Wikia is a free-to-use site that makes money from advertising. We have a modified experience for viewers using ad blockers

Wikia is not accessible if you've made further modifications. Remove the custom ad blocker rule(s) and the page will load as expected.