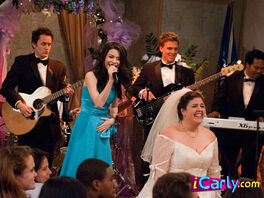 Jodi Birch (née Flooger) is a character that appeared in iDo. At first, she wanted to marry Gordon Birch, but once she saw Spencer, she fell in love with him. She thought that Spencer was really funny. Also, her mother was mentioned on video chat, and her mother seemed to want Jodi to get married. Jodi also seemed to like Spencer's pecs.
She is portrayed by
Rakefet Abergel
.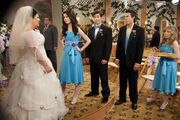 Quotes
Jodi: "Mom, I'm getting married!"
Mom: (Off Screen): "It's about time!"
Jodi: "I... I can't. I think I am in love with someone else.
Crowd: *Gasps*
Priest: Whoa...!
Gordon: Who?
Jodi: (flirty look) Spencer!
Jodi: "Oh my gosh, iCarly's at my wedding!"
Ad blocker interference detected!
Wikia is a free-to-use site that makes money from advertising. We have a modified experience for viewers using ad blockers

Wikia is not accessible if you've made further modifications. Remove the custom ad blocker rule(s) and the page will load as expected.