Jungle Worms
Comments

5
1,095pages on
this wiki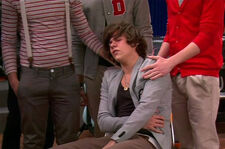 Jungle worms is a fictional disease. Sam describes them as "these scuzzy little parasites that set up camp in your guts." The symptoms of jungle worms are: dry mouth, chills, moaning, groaning and vomiting. Carly, Sams' mom and Harry Styles have had jungle worms. Carly somehow got them from Texas, Sam's mom got them from using some foreign guys' toothbrush and Harry Styles got jungle worms from drinking from Carly's cup while she was still contagious.
Jungle worms were only mentioned in iGo One Direction.
"Finish your rapping!"
This article is a stub. You can help the iCarly Wiki By expanding it.