Kathy is a friend of Carly, Sam and Freddie's.
History
Carly and Sam play a practical joke on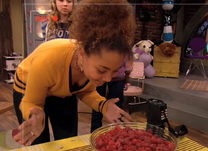 her during an iCarly segment,
Sniff Those Raspberries
.
Gibby
ends up startling her when his hand appears in the bowl of raspberries, making her scream.
Kathy is played by Parker McKenna Posey.