King County Prison is a Seattle-area correctional facility that appeared in iThink They Kissed episode where Spencer volunteered to teach an art class to the inmates, one of whom attacked and tried to kill him.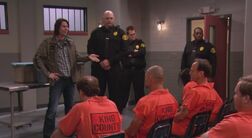 During the art class, Spencer and the inmates constructed a gigantic pair of pants. Later, two of the prisoners escaped by hiding inside of it and emerging after Spencer left it in his apartment.
History
King County Prison was built in 1903.
Ad blocker interference detected!
Wikia is a free-to-use site that makes money from advertising. We have a modified experience for viewers using ad blockers

Wikia is not accessible if you've made further modifications. Remove the custom ad blocker rule(s) and the page will load as expected.