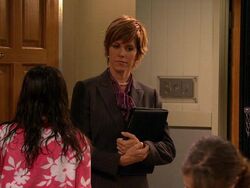 Lise Simms (born Elisabeth Caroline Simms, on March 17, 1967 in Southern Colorado) is the actress who played Linda Peeloff, the Dean of Students at Briarwood Academy, in the episode iMight Switch Schools.
She is best known for playing Barbara Diffy on the 2004-2006 Disney Channel sitcom Phil of the Future. She played the mom of Phil.
The External links for Lise Simms
Ad blocker interference detected!
Wikia is a free-to-use site that makes money from advertising. We have a modified experience for viewers using ad blockers

Wikia is not accessible if you've made further modifications. Remove the custom ad blocker rule(s) and the page will load as expected.