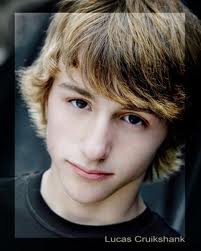 Lucas Alan Cruikshank (born August 29, 1993) is an American actor, voice artist, comedian, and YouTube video maker.
He is the creator of the Fred web sensation. Cruikshank is also famous on YouTube, and actually held the title of "most subscribed" at one point, although he no longer has this title.
Cruikshank guest-starred in the episode iMeet Fred in which he played Fred and himself. Tibbles, his dog in real life, was mentioned, but not seen.
He also had a hit movie called Fred: The Movie (which was watched by 7.6 million people the day of release) on Nickelodeon, starring along with Jennette McCurdy (who played Bertha in the film). In the sequel Fred 2: Night of the Living Fred, Cruikshank reprised his role as the 15-year-old Fred (but Jennette McCurdy didn't reprise her role as Bertha and instead got replaced by Daniella Monet). He also stared in the movie Fred 3: A Camp Fred.
After the success of the two movies, a show on Nickelodeon was created by the name Fred: The Show which premiered on January 16, 2012. The main stars of the show were Lucas Cruikshank as Fred and Daniella Monet as Bertha. This series ended on April 27, 2012.
Cruikshank starred in the new Nickeldeon series, Marvin Marvin as the lead character, Marvin, an alien from the planet Klooton. The series premiered November 24, 2012 and was watched by 2.6 million people. His new friends from Marvin Marvin are Jacob Bertrand, Mim Drew, Pat Finn, Victory Van Tuyl and Camille Spirlin. The series ended on April 27, 2013.
Gallery