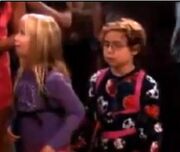 Mabel
is one of the two children that Trina had to babysit for Lane in
iParty With Victorious
. In the episode at Kenan Thompson's house, Trina accidentally referred to her as "Vanessa". Mable began crying when Cat tried to talk to her with her voice box, unable to speak at the moment. She,
Spencer
, Beck, Jade, and Sikowitz were later in the Jacuzzi with her brother,
Wilson
and was found by Lane a soon later, asleep next to some trash cans.
Little is known about this character that makes but one appearance, as she never makes another appearance throughout either series, iCarly or Victorious.
Mable's character is portrayed by Cierra Russell.