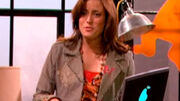 Marilyn Ramer
is a character who makes a single appearance in
iWant a World Record
. She is a staff member of
The Jonas Book of World Records
. She supervised the record attempt for the longest continuous webcast, which
iCarly
tried to break.
Spencer developed a slight crush on her and tried asking her out, but Marilyn informed him that she already had a boyfriend (who she had met through work). Spencer, at first, thinks that Marilyn's boyfriend is a coworker, but Marilyn reveals that her boyfriend is actually a record holder--his record, which Spencer tries but fails to break, is going the longest without blinking.
She is portrayed by Bree Michael Warner.
"Finish your rapping!"
This article is a stub. You can help the iCarly Wiki By expanding it.
Ad blocker interference detected!
Wikia is a free-to-use site that makes money from advertising. We have a modified experience for viewers using ad blockers

Wikia is not accessible if you've made further modifications. Remove the custom ad blocker rule(s) and the page will load as expected.