Mary Louise Scheer (born Tuesday, March 19th, 1963) is an American actress and comedian. She is best known as one of the original cast members of the sketch comedy series, MADtv, and for playing Marissa Benson on iCarly.
Mary also appeared as the teacher in "The Suite Life of Zack and Cody" as a pilot in "Hannah Montana," a child care worker in "Good Luck Charlie", was the voice of Suzie Kokoshka on the Nickelodeon cartoon, "Hey Arnold!", and has made numerous appearances in other cartoons. She currently voices Alice the Zookeeper from the Nicktoons series, "The Penguins of Madagascar".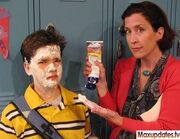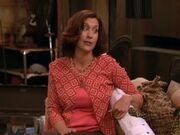 The External Links for Mary Scheer
Ad blocker interference detected!
Wikia is a free-to-use site that makes money from advertising. We have a modified experience for viewers using ad blockers

Wikia is not accessible if you've made further modifications. Remove the custom ad blocker rule(s) and the page will load as expected.